1.9 Billion Buyers on Facebook
Start your FREE plan to kickstart your social selling on Facebook! No credit card required.
You can try it out and set everything up in less than 5 minutes!
Download Plugin
Start making Sales Today!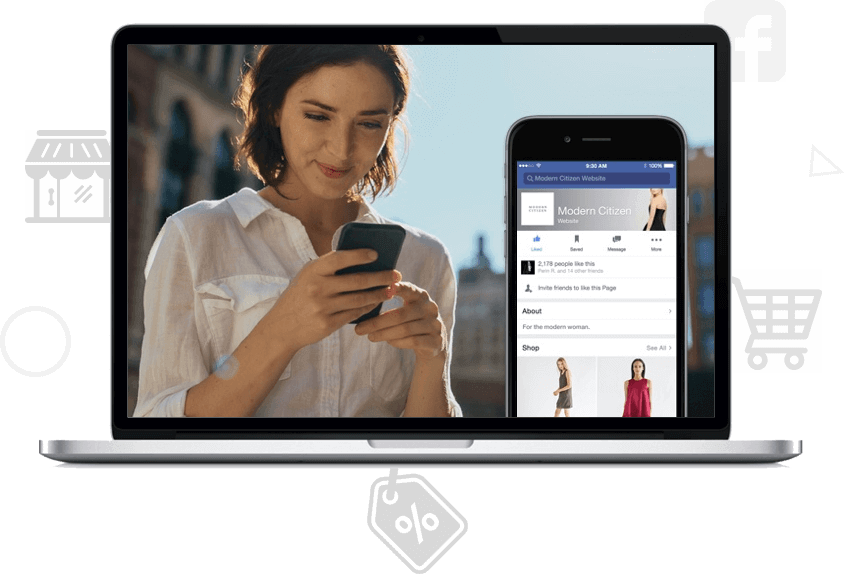 Offer selling
on Facebook
plugin Features

Easy to install
01

Documentation
02

Show Products
on FB Page
03

Get Social
04

Unlimited sync
05

Lowest Price
06

Your home shop
on facebook
07

Online Support
08
STARTER
$0/Month
No Billing
Free Forever
SKU's 36 (Products)
Unlimited Sync
Social Sharing
Branding
Mobile Friendly Shop
Standard support
GET STARTED
$25 Off
PRO
$11/Month
Billed Annually
200 SKU's (Products)
Social Sharing
Unlimited Sync
Banner Image
Branding Removed
Preferred Language
Auto sync Function
Mobile Friendly Shop
Premium Support
GET STARTED
PREMIUM
$50 Off
$19/Month
Billed Annually
Unlimited SKU's (Products)
Social Sharing
Unlimited Sync
Banner Image
Branding Removed
Preferred Language
Auto sync Function
Latest Synced Order
Custom Color Scheme
Mobile Friendly Shop
Premium Support
GET STARTED
still Have questions?
Is there a setup fee?

No, WooCommerce to FB shop plugin has no setup or initial fee. If you are getting any problems in installations please feel free to contact our online support and they will help you to setup.

Can I change my plan later on?

You can upgrade or downgrade your plan anytime you would like to do. There is no yearly or long time contract so you are allways free to choose which plan is good for your business requirements.

Do you take commissions?

We don't charge any commissions from every sale you have done from facebook to your website store, We have only two plans and first is free and second is at 0.35 cent a day.

Can I cancel my subscription any time?

As we stated the plan can changed anytime so you are fully free to cancel your PRO or PREMIUM subscription anytime. But once you cancelled your subscriptions from PRO or PREMIUM to FREE your FAN page will be limitized to 12 SKU's.

Do I need a credit card to sign up?

You don't need to input or save your credit card with our website nor store for PRO or PREMIUM plan as well all subscriptions will be managed by PayPal so its 100% safe and secure.

Do you have a refund policy?

Yes we do! We firmly stand behind the quality of our product and will refund 100% of your money within 7 days of your subscription if you are unhappy with the plugin. Refund will be only last month subscription charges.

Do I need to renew my subscription manually?

You do not need to renew your page subsctiption manually it will automatically renewed when the renewal is due. Your Payments will be made via PayPal where entire world trust on their safaty.

Are custom plans available?

Yes, We have custom plans available. So if you would like to get a custom plan based upon your requirements please write us at help@premium-themes.co and we will get back to you ASAP.
clients who are already using
Its a Great plugin to synced your woocommerce store to facebook Their online registration system was so simple to use and worked fluidly. I have integrated my Facebook Shop in less than 10 mins. I'd certainly recommend them to anyone in two minds and I would use them again!

I was thrilled when I see all my products are now appearing on my facebook fan page very quickly. The most important and productive option i found is I can sync or Unsync my products at anytime there is no restriction weekly or monthly sync only. Supperb work guys keep it up! :)

I'm a huge fan of WCtoFB plugin, and their customer sopport. Big difference i found in this company dont have anually plan on which sometime you forget to cancel and you got charged for another year. When you're trying to distinguish yourself from others in your field, WCtoFB is the product to achieve just that.
4000+ & Continuous
Start selling on Facebook and boost your sales today!
Getting problem with the plugin?